Sustainability Hub
Pioneering Sustainability in Concrete


Welcome to Humes' Sustainability Hub, where we proudly launch NZ's first Environmental Product Declarations (EPDs) for Reinforced Concrete Pipe (RCP), Precast Concrete Sleepers, and Precast Concrete Products. As a leader in the construction industry, we're setting new benchmarks for environmental responsibility, ensuring a greener future for New Zealand.
Our Commitment to Sustainability
At Humes, sustainability isn't just a buzzword – it's our driving force. We're dedicated to reducing carbon emissions by 30% by 2030, and these EPDs are a significant stride towards that goal. But it doesn't stop here – we're on an unwavering journey towards a more eco-conscious construction landscape.

Why EPDs Matter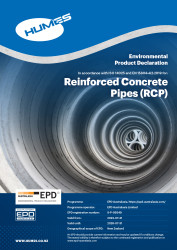 Reinforced Concrete Pipe (RCP) EPD
Our Reinforced Concrete Pipe (RCP) EPD sets a precedent in New Zealand by quantifying the environmental impact of our concrete pipes. Designed for stormwater and sewerage pipelines, these pipes are a resilient solution for water management. With our EPD, you'll have a transparent view of their environmental performance, aiding informed choices for sustainable infrastructure.


Download Humes Concrete Pipes EPD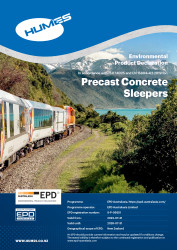 Precast Concrete Sleepers EPD
Railways meet sustainability with our Precast Concrete Sleepers EPD. These sleepers, integral to KiwiRail's network, boast high durability and strength. Our EPD showcases our commitment to eco-friendly rail solutions, enabling you to support sustainable transport infrastructure.


Download Humes Concrete Sleepers EPD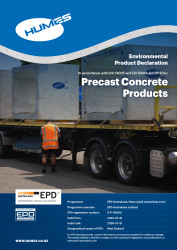 Precast Concrete Products EPD
Diverse, versatile, and green – our Precast Concrete Products EPD covers a wide range of applications, from bridges to troughs. As we redefine construction norms, our EPD empowers you to choose precast solutions that align with your sustainable visions.


Download Humes Precast Concrete Products EPD

The Strategy Behind Our EPDs
Each Environmental Product Declaration (EPD) is a result of meticulous adherence to standardised rules and rigorous verification. We've partnered with industry experts to ensure that our declarations are accurate, reliable, and comparable. By embracing EN 15804 and employing different casting methods, we've maximized accuracy and flexibility, reflecting our commitment to quality and sustainability.

Why This Matters to Us?
We don't just manufacture products; we shape the future. Our EPDs exemplify our dedication to minimizing our environmental impact while delivering high-quality solutions. As we walk this path, we encourage you to explore the details of our EPDs, dive into our sustainable practices, and join us in building a greener world.