Wastewater
We supply a diverse range of products for sewer and sanitary systems to New Zealand's civil and drainlaying sectors.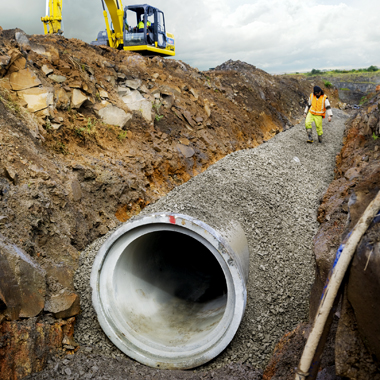 Innovative wastewater management solutions
As a nation that prides itself on taking care of our environment, choosing the right products for sewer and sanitary systems is critical. Without the right solutions in place, we risk unnecessary damage to our land, fisheries, animals and other water supplies.
Humes is trusted to provide quality products and expertise to deliver safe, effective and reliable wastewater solutions throughout New Zealand. Sewer and sanitary systems are demanding and require products that are not only strong and durable but are also fit for the environments in which they need to operate. Our range of wastewater products includes concrete and plastic pipes, ductile iron, drainage components, manholes, pressure sewer and more.
Designing, installing and maintaining an effective solution takes the right team. We have expert engineers and experienced technical support personnel who are available to help with any enquiries you may have about our wastewater products.
See our product range below, or get in touch to discuss your requirements.